Yoga for Parkinson's Disease
& Other Movement Disorders
Yoga you can do, even with conditions that limit movement,
such as Parkinson's, stroke recovery, MS, dystonia.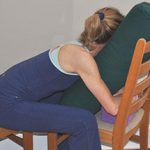 Explore classes  click here for free online class
LIM  (Less Is More) Yoga:
Highlights needs specific to movement disorders.
Browse books, blogs (on yoga (click here) and on service dogs (click here) and resource links.
May they help you find your balance.