New workshop!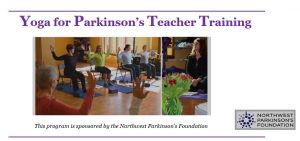 Yoga for Parkinson's Disease
& Movement Disorders
 It's not "gentle yoga."              It's not "chair yoga."
It's for conditions that limit movement,
such as Parkinson's, stroke recovery, MS, dystonia.
LIM Yoga:
Offers a variety  of pose options
Incorporates props & supports
Connects to daily activities
Brings awareness  to movement (key to  fall prevention)
Highlights needs specific to movement disorders.
Explore classes  click here for free online class, as well as teacher training and workshops click here for upcoming.
Browse books, blogs (on yoga (click here) and on service dogs (click here) and resource links.
 May they help you find your balance.